Wine RayZyn™ Superfoods are Now Kosher Certified!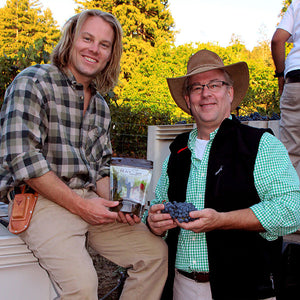 The Wine RayZyn Company, a family owned and operated superfood snack company, will announce at the Summer Fancy Food Show in New York City that its entire core product line is now certified Kosher by Star-K. The Wine RayZyn Company's ingredients are simple and of premium quality. They are made from wine grapes, which are one of the most well known ancient health products.
According to Darren Buck, Wine RayZyn's Director of Operations, "We have been working towards Kosher certification since the company was created. This formal certification is a huge milestone for our brand promise of offering the highest quality products to consumers." The Wine RayZyn Company is extremely excited about this new certification and looks forward to working with chefs, restaurants, and food service providers, as well as with Kosher retailers across the U.S.
The following products are now certified kosher:
CabernayZyn ™ (made from dried Cabernet wine grapes with seeds)
ChardonayZyn™ (made from dried Chardonnay wine grapes with seeds)
MerlayZyn™ (made from dried Merlot wine grapes with seeds)
About The Wine RayZyn Company
The Wine RayZyn Company creates crunchy superfood snacks called Wine RayZyns. They are created from specially dried wine grapes harvested in California. The products represent a new fruit category. The extensive product line is heart healthy, delicious, high in fiber, and has more antioxidants than wine (but contain no alcohol).
Wine RayZyns are specially dried wine grapes. The family-owned company has created a way to caramelize and toast each wine grape's seed in its own sugars, thus creating a new crunchy superfood snack, which is also a versatile ingredient that adds sweetness and crunch to savory and sweet dishes. RayZyns are an all natural, authentic, rustic, and a clean whole food. In addition to now being Kosher certified, RayZyns are naturally sweet, gluten free, vegan, non-GMO, all natural, diabetic-friendly, and have zero preservatives or artificial flavors, all while having a two-year shelf life.
Leave a comment
Comments will be approved before showing up.