Wine RayZyn™ Opens National Distribution Center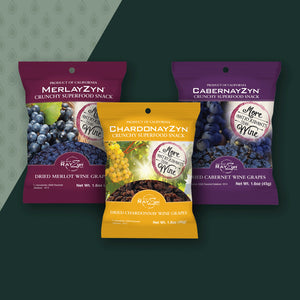 The Wine RayZyn Company is pleased to announce that they have opened a national distribution network though multiple trade channels. The largest distribution network is through KeHE, the largest grocery distributor in the country, with twelve regional distribution centers covering the entire U.S.
The Company has also set up strong regional distribution with partners in the Western states with Market Center in the Pacific Northwest and California; Tony's Fine Foods in Northern California and Oregon; and Crown Pacific in the Pacific Northwest. These regional distributors focus on the Natural and Specialty Food channel.
"Since our CabernayZyn®, MerlayZyn®, and ChardonayZyn® snacks are made from the well-known, healthy food source of wine grapes, we have also partnered with True Brands, based in Seattle, for national distribution in wine shops across the U.S.," says Wine RayZyn Co-Founder, Andrew Cates.
"Find us soon in a store near you or now at RayZyn.com where you can learn more about the amazing health benefits of our Wine RayZyns," says Cates.
Leave a comment
Comments will be approved before showing up.