Upcoming Trade Shows: Sweets & Snacks Expo & IFT 2019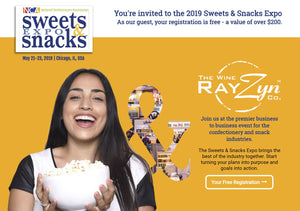 Wine RayZyn™, a superfood snack company that creates healthy snacks from specially dried wine grapes, is highlighting its newest product, "CabernayZyn™ Truffles"- a decadently delicious but guilt-free chocolate treat at two upcoming tradeshows: Sweets & Snack Expo and Institute of Food Technologists Expo. 
This delicious chocolate snack had its initial debut to the public on QVC in February, and its first broad scale launch to the trade at Expo West in early March. The company is thrilled to now be introducing this product to the confections trade at these two prestigious shows.
CabernayZyns are made from hand harvested Cabernet wine grapes and are specially dried to concentrate nutrients and heart healthy antioxidants. To create the truffle, this superfood is paired with antioxidant-rich dark chocolate to create a delicious blend of flavors with the healthy crunch of wine grapes. The result is the new and unique CabernayZyn™ Truffle. In addition to being delicious, each truffle is beautifully wrapped in a foil twist wrap and packaged in a 9 count Truffle bag for the retail trade, as well as, a larger bulk offering for the Hospitality and Foodservice channels.
Andrew Cates, Wine RayZyn Co-Founder, said when asked about this new CabernayZyn Truffle, "We are excited to offer the truffles to the confections trade at the Sweets & Snack and IFT expos because they have been a great supporter of our product lines and attract buyers who encourage innovative brands. We hope the truffles stand out as a unique and healthy twist on a classic confection item."
The Sweets & Snacks Expo will be May 21-23, 2019, in Chicago, IL. Come see us at Booth #5003!
The IFT Expo will be June 2-5, 2019, in New Orleans, LA. Come see us at Booth #4924!
Leave a comment
Comments will be approved before showing up.