'Tis the Season to Surprise Foodies with Delicious Wine RayZyns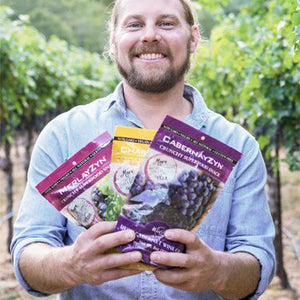 The Wine RayZyn Company's products are surprising foodies nationwide via MARY's secret ingredients' Winter Boxes. MARY's secret ingredients is a culinary surprise subscription box that contains unique, gourmet products. Mary and her team only feature foods that will inspire their subscribers to cook amazing, special dishes. Mary even creates and shares one-of-kind recipes featuring each product within her boxes.
Within each 2016 Winter Box, which shipped in early December, MARY's subscribers received two Wine RayZyn 1.6oz bags to enjoy as snacks or to use in recipes. The flavors included in the boxes are CabernayZyn (dried Cabernet wine grapes), MerlayZyn (dried Merlot wine grapes), and ChardonayZyn (dried Chardonnay wine grapes).
"Our Company is so excited to be apart of the Winter Box from MARY's secret ingredients. We know this activity will drive a lot of awareness for our products, and we hope to create more trial by pushing people to the retailers that sell our products and awarding MARY's subscribers with promo codes redeemable at our website and Amazon," says VP of Marketing, Eleanor Cates.
Leave a comment
Comments will be approved before showing up.