Dark Chocolate CabernayZyns are Kosher Certified!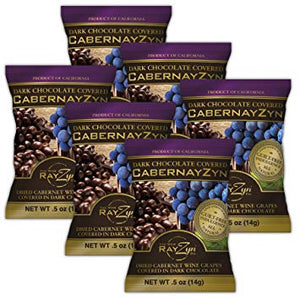 The Wine RayZyn™ Company announces today that its popular Dark Chocolate Covered CabernayZyns are now certified Kosher. CabernayZyns, the key ingredients in this new product, are dried Cabernet Sauvignon wine grapes, a crunchy superfood that is high in fiber, low in fat and cholesterol, and has more antioxidants than wine. To make this snack, each CabernayZyn is coated in luscious dark chocolate.
Dark Chocolate Covered CabernayZyns are the company's newest snack, a "guilt-free indulgence" combining heart healthy Cabernet wine grapes and dark chocolate. According to Darren Buck, Wine RayZyn's Director of Operations, "When your product is certified Kosher, consumers know that you abide by a strict policy of Kosher food laws, including purity and quality. The demand for Kosher certified products has been growing very quickly. In order to meet this growing demand, we have sought Kosher certification since our launch in order to expand our existing market and increase our sales.
We are thrilled that our newest product, as well as our entire core product line, are now all Kosher certified." In addition to being Kosher certified, Dark Chocolate Covered CabernayZyns are natural, are a good source of iron, and have more antioxidants than red wine.
Leave a comment
Comments will be approved before showing up.